Who we are
We are VSV — a proud fishery located on a small island off the coast of Iceland that goes by the name of Vestmannaeyjar.
We've been catching, processing and delivering Iceland's wildest fish since 1946 and we've loved every single moment of it.
Our company is made up of approximately 300 dedicated individuals, comprising of management, administration, fishing and processing, all with one common goal: to provide the rest of the world with Iceland's greatest tasting fish.
Our location on Vestmannaeyjar is amongst the windiest places on Earth, but a bit of wind never fazed our fishermen. They know that these rough waters are the best place in the world to catch the highest-quality Icelandic fish from the purest of waters.
As our island is so close to our fishing grounds, we can catch, process and deliver the highest quality seafood on the planet, while ensuring that it's as fresh as can be. And because we control the whole process, from catch to delivery, we can ensure sustainable and traceable fishing, as well as consistent cooling and reliable delivery, with every single fish.
Here at VSV, we believe that you cannot only taste the wild, but our dedication, responsibility and trust — whether it's our flaky cod, classic haddock or delicious scampi — in every single bite. Something we call the Pure Taste of Iceland.
Our story
Can you taste history? With VSV's story datingback to 1946, we believe you can taste our heritage in every bite.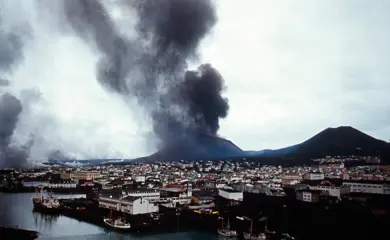 Our story begins on Vestmannaeyjar, a small island off the coast of Iceland. One of the wildest and windiest places in the world.
In 1946, there lived a group of keen island fishermen. 105 to be exact. These fishermen knew there was something special about the fish they were catching; something so special that they couldn't just keep it for themselves. So on the last day of that year, these fishermen came together to build a company on the principles of trust, honesty and dedication that would last long into the future — a company that would later be known as Vinnslustöðin hf. í Vestmannaeyjum, or VSV.
Business for the fishermen was doing great until 1973, when their determination was tested. Vestmannaeyjar's volcano erupted, causing almost the whole island to be evacuated — leaving only the brave hearted behind. Two fishermen, Haraldur Gíslason and Sighvatur Bjarnason, and Bjarnason's wife, Guðmunda Torfadóttir, were amongst those who remained. They stood their ground, quite literally, to salvage the company and its fleets, as well as the island itself — a triumphant battle with nature in which they won. So it's no wonder after their ordeal that the bravery, passion and relentless determination can be tasted in every bite of VSV seafood.
Some 50 years later, the fundamentals of the island and its fishermen haven't changed. What started as a dedicated group of island fishermen has grown into a world-class fleet that is still out to catch the wildest fish in the world. Although the company has grown, you'll still find the same Icelandic quality you did back then — only difference being, the boats are perhaps a little bigger.
We believe everyone deserves to experience the taste of quality, heritage and passion that lies deep within VSV — the real Taste of Iceland. So why not come and try it for yourself?